A Fierce, Wild Joy
The Civil War Letters of Colonel Edward J. Wood, 48th Indiana Volunteer Infantry Regiment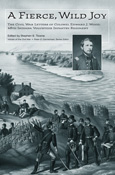 Author(s): Towne, Stephen E.
Series: Voices of the Civil War
Imprint: Univ Tennessee Press
Publication Date: 2007-10-30
Status: Active
Available in Hardcover - Cloth: Price $38.00 | Buy Now
The ninety letters in this collection document the Civil War career of Col. Edward Jesup Wood, an officer of the 48th Indiana.  Evocative and rich in detail, A Fierce, Wild Joy offers a view of the war from an officer's perspective and provides important insights into the day-to-day administration of a Civil War regiment.
Wood was born in Florida to a Connecticut father and slave-owning mother, and orphaned in early youth. He was raised in New England to be an abolitionist, and at the age of fifteen he entered Dartmouth College. His military career began in 1861, and over the course of the war Wood's regiment participated in several key battles and campaigns, including Corinth, Vicksburg, Chattanooga, and the March to the Sea.
Thoughtful, intelligent, and articulate, Wood was a keen observer of details during his time in the Western Theater. His letters vividly bring the war to life as he describes the events of some of its most important campaigns. His change in perspective over time is evident: readers will witness Wood's naïve optimism for a quick and sure victory transform to dawning realization about the long haul and horrors of war.
Readers will appreciate Wood's broad view of the military campaign, political exigencies surrounding the war, and the effects of war on both North and South. A stark reminder of the war's costs are emphasized by Wood's later tragic life. He returned home and committed suicide before his fortieth birthday. A Fierce, Wild Joy includes biographical essays that put Wood in context and aptly remind readers that many who served in the war did not go home to peace and happiness.
Stephen E. Towne is assistant university archivist at Indiana University-Purdue University Indianapolis. His articles have appeared in Indiana Magazine of History, Journalism History, and Civil War History.