A Familiar Wilderness
Searching for Home on Daniel Boone's Road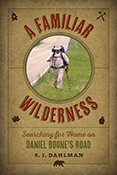 In 1775, renowned pioneer Daniel Boone was commissioned to blaze a road through the Appalachian and Cumberland Plateau regions as a fledgling American nation steadily pushed westward. What would come to be known as the Wilderness Road was the first major route into the West, and it allowed settlers to migrate northwest into Kentucky and later settle parts of Ohio, Indiana, and Illinois. In 2012, Jim Dahlman stopped to stretch his legs on a brief hike into the Cumberland Gap and stumbled upon an adventure. After months of preparation, Dahlman grabbed a pack and set out to hike as accurately as possible Daniel Boone's original trace.
In A Familiar Wilderness, Dahlman illustrates that the Wilderness Road is more than an old track through Appalachia. Many of the towns grew up along Boone's original footpath, and people in these areas can draw direct connections to Boone himself or to other early settlers who traversed this trans-Appalachian route. Dahlman uses these and other encounters to uncover the history of the Wilderness Road and show how we are all a product of our past.
The hospitality of strangers becomes especially instrumental in making Dahlman's hike come alive. Robert, one such stranger, offers to personally guide Dahlman over Powell Mountain. As they make their ascent, Robert provides a splendid view of the mountain, blending careful observation of their surroundings with deep knowledge of the place. A finale to Dahlman's almost 300-mile hike occurs on Hackberry Ridge overlooking Fort Boonesborough State Park—a fitting tribute to Boone's own arrival on the ridge famously overlooking a herd of buffalo.
A Familiar Wilderness takes readers on a winding path where geography, history, and local memory intersect with daily life, and Dahlman's lively writing, sensitive to every detail, will bring readers into thrilling touch with a past that still shapes and challenges the present.
S. J. Dahlman, a longtime journalist and editor, is a professor of communications and humanities at Milligan College in Tennessee.