A Confederate Yankee
The Journal of Edward William Drummond, a Confederate Soldier from Maine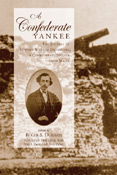 Author(s): Durham, Roger S.
Series: Voices of the Civil War
Imprint: Univ Tennessee Press
Publication Date: 2004-01-30
Status: Active
Available in Hardcover - Cloth: Price $30.00 | Buy Now
Praise for The Blues in Gray, edited by Roger S. Durham:
"Lending additional value to the book is Roger S. Durham's talent as an editor and historian." —W. Todd Groce, Civil War Book Review
"Roger S. Durham has provided us a book that stands out from many of the other edited collections of soldiers' wartime letters and diaries. . . . Durham succeeds . . . in presenting a remarkably vivid picture of the wartime experiences of Dixon and his comrades." —Christian B. Keller, Military History of the West"Skillful editing . . . ample and abundant explanatory notes, identifying people, places, and events." —Choice
"Brother against brother": this cliché of the Civil War experience is brought to life in A Confederate Yankee. Edward William Drummond served in the Confederate army while his brother Clark served for the Union. Yet these brothers came not from Kentucky, Maryland, or Missouri, border states where such conflicts were relatively common. Instead, Ned Drummond came from an abolitionist family in Maine. In 1859, at the age of twenty-one, Drummond moved to Savannah, Georgia, and married a local girl; he joined the local Confederate forces shortly after the war began. His journal follows his experiences as a commissary sergeant at Fort Pulaski, Georgia, prior to, during, and following the attack on that post in April 1862. After the fall of Fort Pulaski, he was imprisoned with other Southern troops—first at Governors Island in New York Harbor and later at Johnson's Island, Ohio, where captivity intensified his loyalty to the Confederacy. Later released in a prisoner-of-war exchange, he returned to Savannah, served in the Confederate army to the end of the war, and eventually reconciled with his Northern family members.
Roger S. Durham is director of the Army Heritage Museum at Carlisle Barracks, Pennsylvania. He is the editor of The Blues in Gray: The Civil War Journal of William Daniel Dixon and the Republican Blues Daybook. His articles have appeared in Civil War Times Illustrated and Blue and Gray.