A Companion to the New Harp of Columbia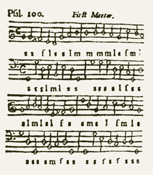 Author(s): Hatchett, Marion J.
Series:
Imprint: Univ Tennessee Press
Publication Date: 2003-03-03
Status: Active
Available in Hardcover - Cloth: Price $70.00 | Buy Now
Meticulous in its research, encyclopedic in its detail, this reference volume is the first such work written for a shape-note songbook. Modeled on the various guidebooks to contemporary denominational hymnals, it provides commentary on every text, tune, author, and composer represented in M. L. Swan's New Harp of Columbia, a shape-note book originally published in Knoxville, Tennessee, in 1867.
The shape-note tradition first flourished in the small towns and rural areas of early America. Church-sponsored "singing schools" taught a form of musical notation in which the notes were assigned different shapes to indicate variations in pitch; this method worked well with congregants who had little knowledge of standard musical notation. Today many enthusiasts carry on the shape-note tradition, and The New Harp of Columbia (recently published in a "restored edition" by the University of Tennessee Press) is one of five shape-note singing manuals still in use.
In the opening sections of this Companion, Marion J. Hatchett provides fascinating historical background about early American composers and folk-hymn compilers and the rise of the shape-note tradition. He then discusses earlier East Tennessee tunebooks before turning to The New Harp of Columbia and its 1848 predecessor, W. H. Swan and M. L. Swan's Harp of Columbia. In the commentaries that follow, Hatchett traces each text and tune to its origin and notes significant changes between the original publication and the subsequent New Harp. His discussions draw on the latest research and uncover earlier sources for a number of tunes and texts than have been previously cited.
This work will be of great value for music scholars and folklorists as well as for the singers who keep the New Harp performance tradition alive. Also, because many of the songs overlap with those contained in other extant shape-note books, this Companion will also interest those who study and use The Christian Harmony, The Sacred Harp, The Southern Harmony, and Harmonica Sacra.
The Author: Before his retirement in 1999, Marion J. Hatchett was professor of liturgics and music in the School of Theology at the University of the South in Sewanee, Tennessee. He has published numerous books on church music and was a member of the drafting committee for the 1979 Book of Common Prayer.