Unwelcome Voices
Subversive Fiction in the Antebellum South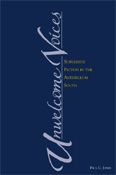 Author(s): Jones, Paul C.
Series:
Imprint: Univ Tennessee Press
Publication Date: 2005-10-30
Status: Active
Available in Hardcover - Cloth: Price $35.00 | Buy Now
The literature of the antebellum South has often been described in literary histories as little more than glorified propaganda for the aristocratic, slave-owning class. While this might pertain to the region's historical romances that feature a dashing, resolute hero committed to upholding the dearly held institutions of slave-holding society and that relegate women and African Americans to roles as meek supporters or loyal comic sideshows, this view does not describe all of the South's literature from this period.
In Unwelcome Voices: Subversive Fiction in the Antebellum South, Paul C. Jones argues that there was a subversive group of voices that dared challenge cherished southern traditions and raised questions about the issues facing the South in the years leading up to the Civil War, including slavery, democracy, and women's rights. Jones examines the work of five southern writers from that era: James Heath, Frederick Douglass, Edgar Allan Poe, John Pendleton Kennedy, and E.D.E.N. Southworth.
Each author was subversive in different ways: Heath featured a progressive hero who ignored the aristocratic assumptions of the South; Douglass presented a rebellious slave hero and made the slave-owning class his villains; Poe used horror to highlight the South's hidden anxieties; Kennedy challenged the romantic visions of the South by opposing them with realistic depictions of the region; and Southworth employed abolitionist rhetoric to undermine traditionalist discourse. Jones clearly shows that the fiction of these writers diverged sharply from the South's dominant literary formula.
Unwelcome Voices represents a major turning point in the study of the literature of the antebellum South. It recognizes those authors who produced the counterweight to the writing meant to prop up the region's elite class and slaveholding way of life. Unwelcome Voices will be a welcome and needed addition to the libraries of anyone interested in Southern history or the literature of the antebellum period.