The Last Book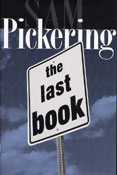 Author(s): Pickering, Sam
Series:
Imprint: Univ Tennessee Press
Publication Date: 2001-09-05
Status: Active
Available in Hardcover - Cloth: Price $26.00 | Buy Now
Readers familiar with Sam Pickering's delightful essays will certainly hope that the title of his latest collection is not intended as prophecy. A true original, Pickering offers observation on everyday life that never fail to sparkle with wit, insight, amusement, and wonder.
Freely blending fact with fiction-"Writing makes liars of us all," he notes-Pickering ranges easily and amiably from his home base in Storrs, Connecticut, to his roots in middle Tennessee, with numerous side trips to observe the natural world to refelct on the bonds of family and friends. One essay finds him playing auctioneer at a local arts council event, jollying the attendees with "tattered country tales" and fanciful, extravagant claims for items being sold. In another piece, his tongue-in-check remarks about the split infinitive, when quoted in a newspaper, ignite a small controversy that lands him on radio talk shows and provokes a flood of sometimes angry e-mail. Yet, whenever the irritations of the human world become a bit too wearying, Pickering finds ready refreshment in the doings of birds and insects and the splash of sunlight on a tree or flower.
Throughout these sixteen essays, Pickering implicitly heeds the advice he offers his son just before the boy much meet the parents of his prom date: :The good storyteller, I instructed Francis, heaps paragraph upon paragraph, just like a waitress serving mashed potatoes in a family-style restaurant." Having dined at the table of a master storyteller, readers will depart this collection feeling fully sated-indeed, well nourished.
The Author: A native of Nashville, Sam Pickering is a professor of English at the University of Connecticut and author of eleven previous books of essays. His most recent collections are Living to Prowl, Deprived of Happiness, and A Little Fling.