Tennessee's New Abolitionists
The Fight to End the Death Penalty in the Volunteer State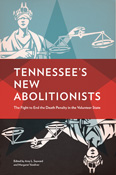 Author(s): Sayward, Amy L., and Margaret Vandiver, eds.
Series:
Imprint: Univ Tennessee Press
Publication Date: 2010-05-15
Status: Active
Available in Paper: Price $24.95 | Buy Now
"The meaning of the admonition—four words most often forgotten, ignored or intentionally violated–seems so simple: 'Thou shall not kill.'  Here nineteen essayists remind us that there have been those among us who understood the meaning—and who sought to give Life to The Law." —John Seigenthaler
"One fine day when the death penalty is abolished in Tennessee, we'll want to know how it happened. This book, edited by my good friends Amy Sayward and Margaret Vandiver, will tell the story—in riveting detail." —Sister Helen Prejean, author of Dead Man Walking
Seeking to illuminate Tennessee's death penalty system and those who oppose it, this collection of essays combines a historical overview of efforts to abolish state killing in Tennessee with first-hand accounts from people involved in those efforts. Representing a diversity of backgrounds and perspectives, the contributors include, among others, lawyers, academics, activists, religious leaders, and a former state supreme court justice.
Surprisingly, prior to this book, there has been no examination of capital punishment in Tennessee within the context of the larger national debate on the death penalty. While Tennessee has a death penalty system similar to those of many other Southern states only six people have been executed in the state since then, despite the overwhelming concentration of executions in the South.The book includes essays covering such topics as Governor Frank Clement's attempt to abolish the state's death penalty in the 1960s, the troubling questions raised by mental illness and capital punishment, and coverage of several recent executions by Tennessee's newspapers. The authors of the chapters in the final section, "Rarely Heard Voices," include the father of a murder victim, four anonymous death row authors, Department of Correction officials, and the sisters of one of the men executed in the state.
A provocative contribution to one of the signal debates of our time, this book illuminates the myriad ways in which the various forces involved in the controversy—from history, politics, and culture to individuals and organizations—have collided, intersected, and coexisted in unique ways in Tennessee.
Amy L. Sayward is chair and professor of history at Middle Tennessee State University. She is also the author of The Birth of Development: How the World Bank, Food and Agriculture Organization, and World Health Organization Changed the World, 1945–1965.
Margaret Vandiver is professor of criminology and criminal justice at the University of Memphis. She is the author of Lethal Punishment: Lynchings and Legal Executions in the South.