In the Shadow of the Enemy
The Civil War Journal of Ida Powell Dulaney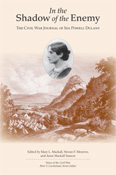 Author(s): Mackall, Mary L., Stevan F. Meserve, and Anne Mackall Sasscer, eds.
Series: Voices of the Civil War
Imprint: Univ Tennessee Press
Publication Date: 2010-10-01
Status: Active
Available in Paper: Price $34.95 | Buy Now
The mistress of a slave-holding estate, Ida Powell Dulany took over control of the extensive family lands once her husband left to fight for the Confederacy. She struggled to manage slaves, maintain contact with her neighbors, and keep up her morale after her region was abandoned by the Confederate government soon after the beginning of hostilities.
More than just an elegantly written account of her own day-to-day experiences in the Civil War, Ida's journal opens a window into the Southern culture of the time.
Stevan F. Meserve has written extensively for several Civil War publications and is the author of The Civil War in Loudoun County, Virginia: A History of Hard Times.
Anne Mackall Sasscer grew up on Selby, a family farm near The Plains, Virginia, the home of Ida Powell Dulany's youngest daughter.
Mary LeJeune Mackall spent her early years at Blenheim, a pre-Revolutionary farm near Charlottesville, which inspired her lifelong interest in Virginia history.