Fiddlin' Charlie Bowman
An East Tennessee Old-Time Music Pioneer and His Musical Family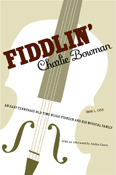 Author(s): Cox, Bob L.
Series:
Imprint: Univ Tennessee Press
Publication Date: 2007-05-15
Status: Active
Available in Paper: Price $24.95 | Buy Now
This new book tells-for the first time-the story of Charlie Bowman, a musician from East Tennessee, who was a major influence on the distinctive fiddle style definitive of country music of the 1920s and 1930s.  Charlie, along with three of his brothers and two of his daughters, were part of the Columbia Records "Johnson City Sessions" of 1928 and 1929.
The farmer-turned-musician was one of the pioneers who helped shape and develop a vital American musical genre. Bowman was acquainted with many musical luminaries of that colorful era, including the legendary Carter Family.
But this is not simply the biography of one man.  Fiddlin' Charlie Bowman is the portrayal of a large colorful family, a close-knit mountain community, a geographic area, and a specific musical variety defined as old-time traditional Appalachian music.
This volume explores Bowman's musical life – his work with various bands, including the Hill Billies (the first group to use that name to characterize old-time music), his years on the road touring, and his association with other performers.  Beyond that, it chronicles the experiences of Bowman's large family left behind in Gray Station, Tennessee and details the many hardships caused by his departure and prolonged absence.
Written by Bowman's great nephew Bob L. Cox, this biography provides an insider's perspective on an important but often overlooked musician. For his research, Cox drew on his family's records and memories.  In addition to published books and articles, his resources included the family Bible, scrapbooks, diaries, photographs, and taped interviews with family members and friends.
Sure to be enjoyed by all those interested in the origins of country music and Appalachian history, Fiddlin' Charlie Bowman is a delightful account of the life and times of this musical trailblazer.
Bob Cox, a retired chemical engineer, is a history columnist with the Johnson City (Tennessee) Press, producing a weekly feature entitled Yesteryear.