Erskine Caldwell
A Biography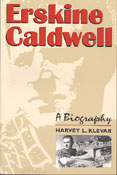 Author(s): Klevar, Harvey L.
Series:
Imprint: Univ Tennessee Press
Publication Date: 1993-10-20
Status: Active
Available in Paper: Price $21.00 | Buy Now
Since the 1930s, Erskine Caldwell's writings have provoked laughter and pathos, curiosity and disbelief. His perplexing characters, comically motivated only by their instincts for survival, allowed Caldwell to illustrate the duality of human nature as he explored the social issues of his times in such celebrated novels as Tobacco Road and God's Little Acre.
Behind Caldwell's social protest and his comic characters lay a man whose life imitated art. A rural southerner who later moved among the movie industry's famous and powerful, Caldwell led a life as compelling as any of his fiction. As Harvey Klevar weaves the threads of this life into the cultural tapestry of the times, he explores the myriad of personal forces and world events that contributed in the 1930s to Caldwell's popular acclaim and later to his descent from literary grace.
A recluse in both his personal life and in his public writing, Caldwell offered little direction to those seeking clues to his literary intentions. Klevar argues that Caldwell should have shared more in the accolades heaped upon his contemporaries Faulkner, Hemingway, and Steinbeck; but ultimately his personal idiosyncrasies encouraged his underestimation by the literary establishment. Proving that a careful reappraisal of Caldwell's life lends critical insight into his writings and career, Klevar's work unveils an inventive artist who skillfully combined social phenomena with personal experience to offer unique insights into the telling of the human story.
The Author: Harvey L. Klevar is professor of anthropology at Luther College, Decorah, Iowa.