A Mission for Justice
The History of the First African American Catholic Church in Newark, New Jersey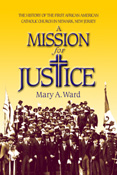 Author(s): Ward, Mary A.
Series:
Imprint: Univ Tennessee Press
Publication Date: 2002-09-25
Status: Active
Available in Paper: Price $15.00 | Buy Now
Founded in 1930 as the result of efforts by several black Catholic laywomen, Queen of Angels was the first African American Catholic congregation in Newark, New Jersey. The church quickly embarked on an outreach campaign that endured for decades and affected the entire Newark community – black and white, Catholic and Protestant. By the 1960's, many people looked to Queen of Angels as a model of social and civil rights activism. In A Mission for Justice, Mary Ward places Queen of Angles within its broader historical, religious, and social context and explores the church's struggle for justice within the Catholic Church and in society as a whole.
The reach of Queen of Angels extended far beyond its own membership. For example, while riots erupted in other cities across the country after the murder of Martin Luther King Jr., Queen of Angels played an instrumental role in organizing the Walk for Understanding, a peaceful march of twenty-five thousand blacks and whites through the heart of the inner city. That event and the ethos that inspired it gave birth to the New Community Corporation, the largest nonprofit housing corporation in the country, led by former Queen of Angels priest, William Linder.
Today, Queen of Angels is one of several African American Catholic parishes in Newark, and its mission is now more pastoral than activist. But the church continues as a home to various community based programs working to improve the lives of Newark's residents.
Based on nine years of research, A Mission for Justice draws on oral histories of parishioners, pastors, nuns, and layworkers at Queen of Angels as well as on documents from various private collections. Ward's study will be valuable reading for those interested in African American and church history as well as the history of social activism and the Civil Rights Movement.
The Author: Mary A. Ward is an adjunct professor of religion at Fordham University.